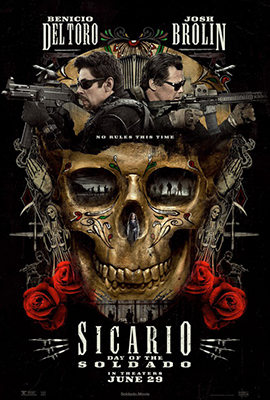 Pre Release Survey

- Take Now!
Anticipation Level: 2.33
Predicted Gross: 11-15 mil.



Starring:

Josh Brolin, Benicio Del Toro, Isabela Moner



Synopsis:

The drug war on the US-Mexico border has escalated as the cartels have begun trafficking terrorists across the US border. To fight the war, federal agent Matt Graver re-teams with the mercurial Alejandro.

*Anticipation level and predicted gross are determined by taking the averages of all Pre Release Surveys completed by participating members. Anticipation level is measured on a scale from 1 to 5.
Movie Links


imdb.com



Trailer


None Yet