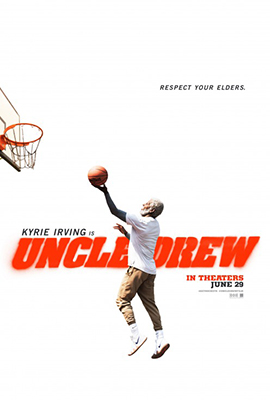 Pre Release Survey

- Take Now!
Anticipation Level: 2.00
Predicted Gross: 11-15 mil.



Starring:

Kyrie Irving, Lil Rel Howery, Shaquille O'Neal, Reggie Miller, Nate Robinson, Chris Webber, Tiffany Haddish, Nick Kroll



Synopsis:

After draining his life savings to enter a team in the Rucker Classic street ball tournament in Harlem, Dax (Howery) is dealt a series of unfortunate setbacks, including losing his team to his longtime rival (Kroll). Desperate to win the tournament and the cash prize, Dax stumbles upon the man, the myth, the legend Uncle Drew (Irving) and convinces him to return to the court one more time.

*Anticipation level and predicted gross are determined by taking the averages of all Pre Release Surveys completed by participating members. Anticipation level is measured on a scale from 1 to 5.
Movie Links


imdb.com



Trailer


None Yet