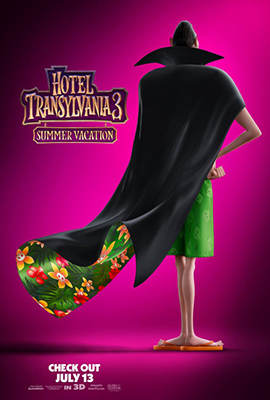 Pre Release Survey

- Take Now!
Anticipation Level: 2.00
Predicted Gross: 36-40 mil.



Starring:

Adam Sandler, Selena Gomez, Kathryn Hahn, Andy Samberg, Mel Brooks, Steve Buscemi



Synopsis:

Mavis surprises Dracula with a family voyage on a luxury Monster Cruise Ship so he can take a vacation from providing everyone else's vacation at the hotel. The rest of Drac's Pack cannot resist going along. But once they leave port, romance arises when Dracula meets the mysterious ship Captain, Ericka. Now it's Mavis' turn to play the overprotective parent, keeping her dad and Ericka apart.

*Anticipation level and predicted gross are determined by taking the averages of all Pre Release Surveys completed by participating members. Anticipation level is measured on a scale from 1 to 5.
Movie Links


imdb.com



Trailer


None Yet